Mar 20 2011
The German Academic Exchange Service (DAAD), the German Rectors´ Conference (HRK), the Gadjah Mada University, the University of Applied Sciences Osnabrück and the Centre for Higher Education Development (CHE), in cooperation with the Alexander von Humboldt Foundation (AvH) were jointly organising part III of the International Deans' Course (IDC). This intensive training course was part of the DIES programme (Dialogue on Innovative Higher Education Strategies) which has been jointly coordinated by DAAD and HRK since 2001.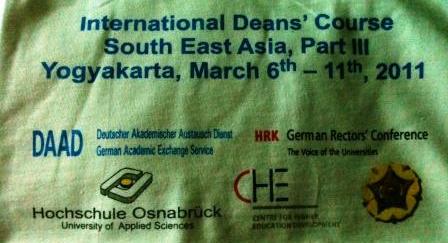 The key objective of the course was to bring together a group of about 30 deans, vice-deans, and heads of departments – many of them alumni of DAAD and Humboldt Foundation – from Universities in South East Asia and to prepare them for the challenges of holding a dean's position in a changing higher education landscape.
Leave a Reply
You must be logged in to post a comment.