May 12 2011
Universitas Gadjah Mada and National Agency for Amil Zakat (Baznas) opened the activity of "Zakat Community Development" program in order to develop Srimartani village as an Agropolitan region to support food security program.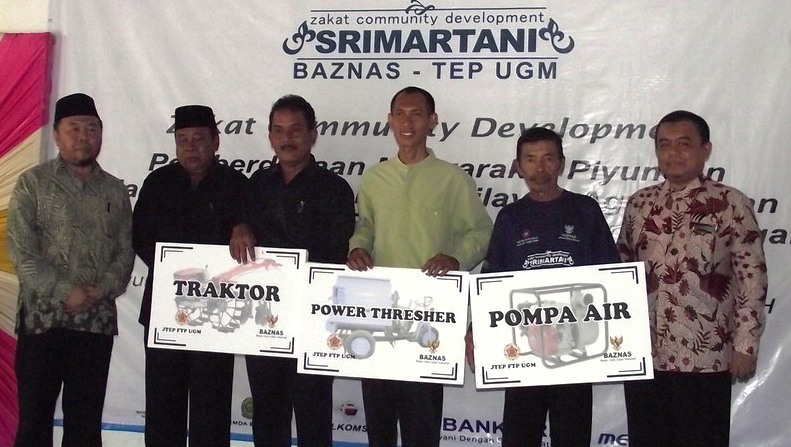 The opening was marked with symbolic handover of aid in the form of agricultural equipment and machinery such as tractors, water pumps and power thresher to the representatives of farmers groups in Srimartani Village, Wednesday (4/5). The activity taking place at the Village Hall was attended by Chairman of Baznas, Prof. Dr. Didin Hafidhuddin, Vice Regent of Bantul Drs. Sumarno and Assistant to Senior Vice Rector for Academic, Research and Community Service of UGM, Prof. Dr. Ir. Zuprizal.
Srimartani is one village in Piyungan Subdistrict, Bantul Regency, bordering to Sleman and Gunungkidul Regencies. Most of villagers in Srimartani have livelihoods on agriculture. Their main problem in the agricultural sector is farming productivity which is not optimal, needing improvement by agricultural intensification approach.Team Leader of Community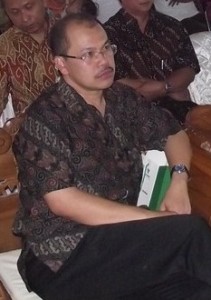 Development Program, Dr. Ir. Lilik Soetiarso, M. Eng., said that some programs had been conducted in community empowerment, namely developing local ingredients-based superior food products. "Recently, Bantul has conducted movement to reduce dependence on wheat. Through this program we hope Srimartani Village within 2-3 years will produce local ingredients-based food. The village is famous for vegetable products, bananas, cassava, etc, and has the potential to develop superior products," said staff of Agricultural Engineering Dept., Faculty of Agricultural Technology UGM. Not only the agricultural programs, UGM Agricultural Engineering Team will also run program for water conservation and land management. This was done because the village's topography is hilly and often has difficulty in obtaining clean water. "We prepared the technology to prepare clean water and encourage eco-friendly agricultural technology," he said.
In addition, the team from UGM will empower and increase optimization of livestock waste because some villagers are farmers. "There are 13 livestock's farmer groups here, so, they will process the waste into biogas. Meanwhile, biogas solid waste is converted into organic fertilizer to support farming," he said. Prof. Dr. Didin Hafidhuddin said that village development of Srimartani as agropolitan region is one form of zakat distribution program for community empowerment activities. According to Didin, this activity is one of the pilot programs which will be adopted by the Islamic Development Bank (IDB) for poverty alleviation programs in Asia, Africa and the Middle East.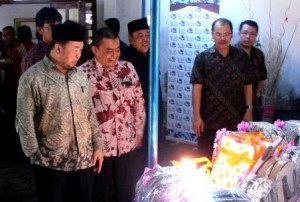 Meanwhile, the Vice Regent of Bantul welcomed the implementation of community empowerment programs in Bantul in order to assist the government to improve the welfare of Bantul community. "The success of this program depends on the awareness and participation of society and those who have supported it," he ended his speech.
_______________________________
Source: http://www.ugm.ac.id/en/?q=news/ugm-and-baznas-opens-srimartani-village-agropolitan-region
Link:
http://www.radarjogja.co.id/berita/metropolis/16431-desa-srimartani-jadi-kawasan-agropolitan.html
http://www.baznas.or.id/new/detail_berita.php?id=20110503001
http://republika.co.id:8080/koran/0/134409/Baznas_Prakarsai_Zakat_Community_Development_di_Bantul